This time its the Fuji X70!...
I used to have GAS for the X70 before but i never pulled the trigger..
But now the GAS is back...
I love my Sony A7S and the output i will get..
but somehow that camera just lacks the soul...
It didnt make me want to take a picture...
unless im shooting the night sky and maybe going for that crazy bokeh look..
The reason im GASing for the X70 is the size....
Because i have a trip to DC coming up...
so a smaller camera would come handy...
my iphone is small but id like the best IQ possible...
I would love to bring my Sony A7S but somehow thinking of bringing it already felt unliberating..
unliberating = not free = no freedom
Its kind of bulky although it is small, blame it on the protruding lens..
So if i have a X70, will it give me a peace of mind?
It is small for sure, and the Fuji quality is no question but will it be able to capture the milky way like the A7S did?
There are a few things that put me off from buying the X70.
First is money baahahah...
Will i go crazy and spend my life savings on a camera that i will use for a one week trip?
Will i fully utilise it then? or maybe it will stay in the bag?
Will i bring it everywhere? im sure i must!
I would love the X70 if someone can show me if it can take portraits with decent bokeh...
ive been looking online...its tough! i know i know....
it is wide angle and a bit slow lens at f2.8, not a popular choice for portraiture work but hey...as long it didnt distort way too much and at least decent bokeh, i dont mind...
i know Fuji is good at low light but im already used to the Sony A7S low light quality, will i be disappointed?
My heart says wait for the new iteration, X70S or X80 but my trip is this Saturday.
Have i told u that the X70 is a discontinued product? Not that it turned into a bad camera, its just i happen to like the latest and the greatest...
if i wait for the X80, it will have a new sensor and the ACROS mode but do i need them?
Do i need bokeh? I do love them but do i need them for all my photos?
Sure its good to have bokeh if it can but is it a deal breaker for me?
If i did buy the X70, why do i keep thinking that i will still bring the Sony A7S? whats the point then?
Hmmmm, decision is tough unless im super fucking rich.
And then theres the question whether to get silver or black...
Oh money why dont u grow on trees?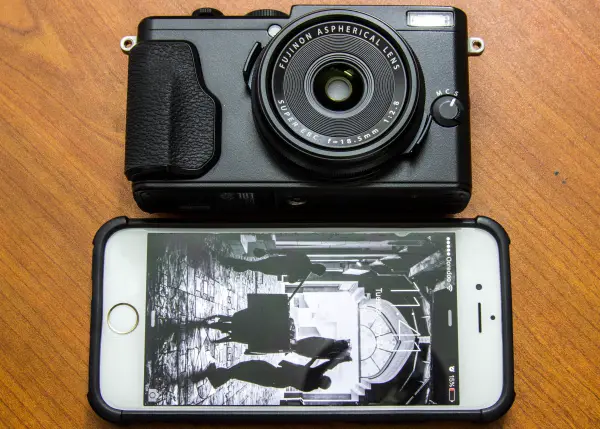 Smaller/shorter than an iPhone but cant fit pants they say...